Stair Lift | Bruno Elan Overview
Get the most popular American-made straight stair lift
Bruno's Elan is a mix of stylish design, high-quality functionality and ease-of-use operation. 
With a narrow vertical rail design, Bruno's Elan stair lift leaves plenty of open space on the steps for family members.
300 Lb Lift Capacity (136 Kg)
Limited Lifetime Warranty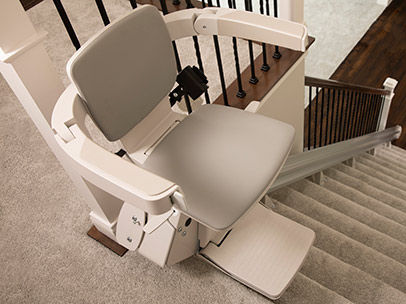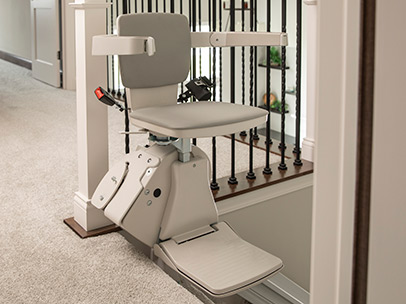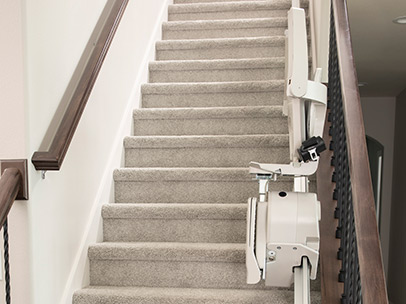 Bruno Elan Stair Lift Video
Reliable, smooth, easy-to-use
Space-saving design installs close to wall
Offset swivel seat swivels and extends away from steps
Ultra compact when arms, footrest, seat folded
Smooth, quiet ride
Retractable seat belt and obstruction safety sensors
Dependable service even in power outage
Vertical rail with covered gear rack for clean appearance
Stair Lift Technical Specs
Specs
Vertical Rail: Installs within 5 in (127 mm) of the wall
Seat pad size: 15.75 in wide x 16.75 in deep (391 mm x 416 mm)
Footrest size: 10.5 in long x 11 in wide (267 mm x 279 mm)
Width between arms: 20.25 in (514 mm)
Safety
Obstruction sensors
Seat belt
Offset swivel seat
Power
Two 12-volt batteries
Continuous charge strips along rail power unit wherever it stops
Brochures

Life-changing technology, sturdy, reliable and great for my 86-year-old mother. 
by Michael and Cathy Levitas | United States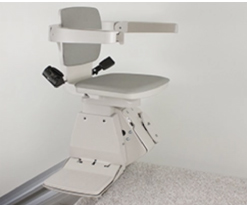 POWER SWIVEL SEAT
Control on Chair Arms or Wireless Call/Send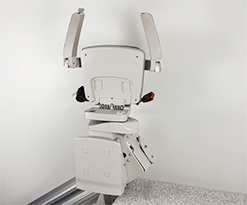 POWER FOLDING FOOTREST
Power Flip up Footrest when the seat is manually raised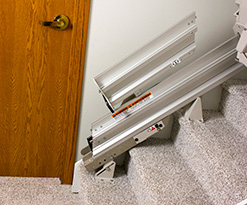 POWER FOLDING RAIL
Power or Manual use when door or narrow hall is at the bottom of the stairs
CALL 24/7 - 365 Days a Year
In a world where technology continually evolves to make life more convenient, assistive technology emerges as a beacon of hope, especially for individuals facing physical, cognitive, or health-related challenges in their daily lives.
read more